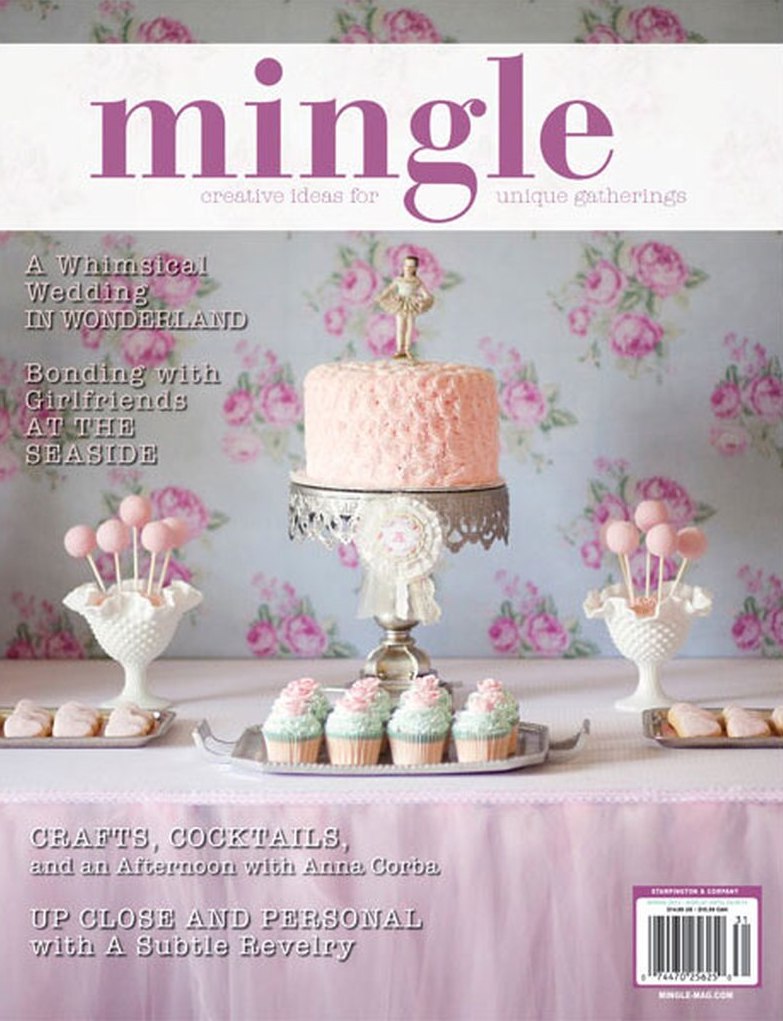 Our wedding featured in the Spring 2013 issue of Mingle magazine.
Also featured in Unique Bride (UK Magazine).
---
A Handmade, Colorful Carnival Wedding (August 12, 2012)
By Jessica Serra Huizenga and Clifford Huizenga
From the moment we got engaged, there were only three requirements for our "big day:" 1.we wanted it to be fun, 2. we wanted it to be creative, and 3. most importantly, we wanted it to be a reflection of us.
To be honest, the carnival theme sort of just fell into place. We got engaged in October of 2011, and I think by November we had already chosen the New England Carousel Museum as our venue. Come to think of it, it was the only place we went to look at! As soon as we stepped inside, we knew something magical would take place. There were all sorts of unique and interesting things to look at, bursting with color and imagination, so once that was set, everything else came together pretty quickly.
We knew very early on that a traditional wedding wasn't really the right fit for us. We basically just wanted to have a big celebration with everyone close to us having a good time, and who doesn't have a good time eating fried food and candy while riding a carousel with a balloon animal in your hand? To fully cash in on the carnival vibe, we had a food truck serve fried dough, cotton candy, funnel cakes, fried Oreos, candy apples, etc., and as "entertainment" offered carousel rides, energy readings, and balloon art. Our ceremony, which was a short (but special!) ten minutes, included a carnival barker Justice of the Peace and a colorful balloon drop.
Despite the non-traditional nature of the wedding, I did choose to include a number of personal, sentimental touches to honor tradition in my own way. My engagement ring belonged to my grandmother and is still in its original setting. Both her and my grandfather (on my mother's side) passed away in 2008, but I still look to their marriage of over 50 years as the epitome of true love. I also had my dress made to include pieces from my mother's wedding gown, and added a strand of camouflage ribbon as a small tribute to my dad. He passed away in 2009 and was big into the outdoors. We also got married on his birthday, August 12th. Even though it was hard to grasp the fact that there were some people very close to us who wouldn't be there, I took some comfort in knowing I had a small piece of each of them with me.
We also wanted the day to have a lot of handmade touches –since we both like to fancy ourselves creative people, we knew a lot of the design and creation would come straight from us. Clifford took care of most of the digital stuff – designing the invitations, signs, etc. and developing our wedding website, while I took on the crafty side of things – making the colorful part of my dress, glittering my shoes, putting together the centerpieces, making the colorful paper garland decorations (thanks to the inspiration of Jennifer Paganelli of Sis Boom!), and assembling the candy bar.
It was a lot for us to take on a majority of the planning and executing ourselves, but we were lucky to work with a number of awesome vendors that helped make our visions come to life. A special shout-out to our wonderful, sassy photographers, Marisa and TJ – without their beautiful work we wouldn't be able to share any of these special moments with you. We also could not have pulled any of this off without the hard work of my mom, brother, stepdad, and future sister-in-law setting everything up the day before and cleaning it all up after the wedding. A lot of laughter, heart, and sweat (and maybe even a few tears!), went into the nine months of preparation, but at the end of it all we had an amazing day filled with smiles and love.
All photographs by Sassy Mouth Photography | www.sassymouth.net
Vendors:
Photography: Sassy Mouth Photography (Meriden, CT)
Venue: New England Carousel Museum (Bristol, CT)
Hair & Makeup: Larissa Lake Makeup Artist (Wethersfield, CT)
Assistance with Wedding Dress Creation: Bliss Bridal (Cheshire, CT)
Catering: Nutmeg Concessions (Milford, CT)
Invitation Printing: Pushing the Envelope (North Haven, CT)
Balloon Artist: Brian's Act (Cheshire, CT)
Justice of the Peace Extraordinaire: Mike Marganski (Ansonia, CT)
Balloon Drop: Balloons Above (Farmington, CT)
Soap Favors: Sunflower Hill Soap (Hollis Center, ME)